The A.S. Green Bill has its roots in UCSB Sustainability's Program for the Assessment and Certification for the Environment and Sustainability (PACES), which evaluates and certifies Green Offices on campus. PACES certified A.S. offices collectively and created a customized set of sustainability goals. A.S. Legislative Council, a group of students representative of the student body, summarized these sustainability goals in the A.S. Green Bill, and passed the bill into the A.S. Legal Code in Spring 2011.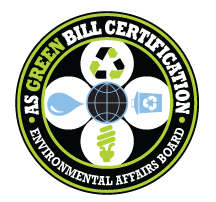 Not only does the A.S. Green Bill strive to meet PACES Green Office Goals, but it also voices the student body's desire to continue UCSB's historical leadership in environmental science and sustainability thoughout Associated Students. It's specific measures are summarized here. A.S. groups should strive to understand and meet the sustainability measures in place.
The purpose of Environmental Affairs Board's A.S. Green Bill Certification is to increase environmental awareness and initiate sustainable practices within A.S. organizations. The certification Checklist measures how sustainable the organization is and specifies attainable sustainable practice goals. Organizations will be rewarded 1-4 stars based on the percentage of completed Checklist goals. The individualized Green Bulletin Boards in each organization's office intend to manifest and maintain environmental awareness, as well as personalize sustainability goals for each organization's officers. The Green Bulletin Boards showcase office members, goals, and hold related resources.
Member profile pictures, titles, and "sustainable-thought" bubbles intend to involve and remind every officer of their pledge to the program.

50% of the office members are required to sign the A.S. Green Bill Pledge in order to receive a bulletin board.

Each Green Bulletin Board exhibits a Goal Sheet with allotted space for PACES Goals and Green Bill Goals.

The program encourages organizations to collaborate with PACES for office energy audits, purchasing audits, and sustainability walk-throughs. PACES' assessments provide goals to fill in the Goal Sheet on the Green Bulletin Boards.

Use the Green Bill Certification Checklist to fill in Green Bill Goals.

Resources related to the A.S. Green Bill Certification are
The A.S. Green Bill Certification is meant to be a easy tool for sustainable improvement. Please help UCSB continue its legacy in environmental activism. You don't have to be a sustainability organization to be a sustainable one!
Recommend another organization to the A.S. Green Bill Certification and get points on your checklist!