EAB seeks to engage students from all walks of life through a variety of campaigns that address broad aspects of the environmental movement. All of our campaigns are student-initiated and run. If you have an idea for an environmental campaign, EAB can provide the support and resources to make it a reality!
For more information about any of our campaigns email us at ucsbeab@gmail.com
---
Current Campaigns:
Thrift Shop
EAB's Thrift Campaign is working towards getting a student-run thrift shop started in IV. Its purpose is to promote reusing, reduce consumerism, and provide an affordable place for students to shop. EAB is currently holding quarterly pop-up thrift shops around campus to test run the project. The shops offer clothing, books, school supplies, and other small items free of charge for UCSB students.
Fossil Free
The University of California invests millions of dollars in the fossil fuel industry. By investing, the University of California not only takes partial responsibility for but also supports fossil fuels. Yet climate change is accelerating. The National Academies of Science affirmed that anthropogenic climate change represents a crucial challenge to the future of humanity, with a current 150,000 annual deaths and $1.2 trillion in annual economic losses. The extraction and burning of fossil fuels have been shown time and again to not only be linked to climate change, but also to pollution, environmental degradation, public health crisis, and natural disasters. The science is clear: we cannot safely burn fossil fuels without continuing to increase the global temperature and emit dangerous levels of carbon dioxide.
EAB's Fossil Free Campaign is raising student, faculty and staff support and awareness about the issue, as well as working with other UC's. The campaign ultimately aims to get the UC Regents to divest the money in the endowment pool away from 200 publicly traded companies, which make up the largest portion of the fossil fuel industry.
---
Past Campaigns:
Campus Activism
In the Spring of 2011, AS Legislative Counsel passed the "Green Bill", a resolution to promote sustainable practices within Associated Students by bringing environmental consciousness to the spending of student funds. The bill requires that at least half of all money allocated to food and supplies be used to buy "sustainable" products. In addition to proactive spending the Green Bill also targets passive spending habits by requiring the promotion of energy conservation techniques in student government offices.
EAB launched a campaign to increase awareness of the Green Bill creating the Green Consultant position on our core group of officers. The Green Consultant  is responsible for publicizing the Green Bill to other Boards, Councils and Commissions and provides a resource for student groups that are unfamiliar with environmentally friendly practices or are looking for new ones.
Check out the Resources tab to read the full text of the Green Bill itself.
Political Action
We lobby decision-makers at every level for effective environmental policy.  Recent actions include sending 15 students to Berkeley, CA for the Powershift Convergence (November 2016) and 23 students to Copenhagen, Denmark for the United Nations Climate Change Conference (December 2009).  While in Copenhagen the students blogged extensively about their experience.
Sustainable Business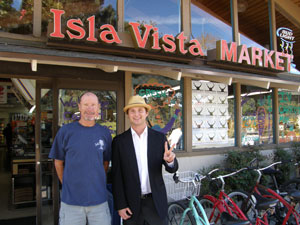 We worked with local businesses to develop creative answers to climate change in socially, environmentally, and economically positive ways. From providing energy retrofits to Isla Vista stores, to working with campus policy makers to make environmentally-sensitive investing decisions, to searching for a solution to the plastic bag problem, we are always on the lookout for fresh and interesting ideas from students to make local commerce more sustainable and equitable. Some events have included Isla Vista CarrotMob and The Evolution of Man and Bag. EAB was also involved with the development of the Investment Advisory Committee's Sustainable Investing Analysis and Report, which can be downloaded here.
Water Conservation
This campaign's goal was to educate the student body about the importance of water conservation and to improve water use practices on campus. The educational campaign addresses the amount of water that is used and wasted each day in our area and on our campus, as well as statewide, nationwide, and even globally. Campus project goals include the installment of timed showerheads in the dormitories and water purifiers on the water fountains, the extinction of plastic water bottles on campus, and the replacement or modification of campus irrigation systems. Remember that conserving water is just as important as conserving energy!
Environmental Justice

Environmental Justice EAB advocates for social justice and human rights as they pertain to the environment. We strive to educate the UCSB community about the importance of this often overlooked aspect of environmentalism. Environmental justice chiefly addresses the disproportional distribution of environmental burdens–such as proximity to industrial facilities, landfills, and mining operations–borne by impoverished communities and people of color. Equally important is ensuring that these communities have access to clean air, water and to nutritious food.
Sustainable Foods
We support local and organic farmers by encouraging the purchase of sustainably grown produce in campus dining commons and Isla Vista businesses. We educate local residents about the advantages of a healthy organic diet, and even grow our own fruits and vegetables in our garden plot on campus! Our newest and most popular foods event is the Green Chef cooking competition, which celebrates sustainable food in a fun and rewarding way. Pictured on right:  EAB hosts friendly potlucks all over campus!
Meatless Monday
We work to raise awareness about the negative environmental, health, social, and animal welfare impacts of meat consumption, and we educate students about the tremendous benefits of cutting out meat from their diets one day a week (or more!). Meatless Monday is part of a national movement to improve the health of people and the planet.