Get out, get active!
If you want to see what we're up to, check out our calendar!
Adopt-A-Block
EAB regularly partners with Isla Vista Parks and Recreation to pick up trash.  Armed with our high fashion, tangerine colored grapplers, we scavenge high and low for the oddities you may find in the streets of IV.  Help keep IV clean as we take a relaxing stroll and pick up trash.  Join us at 3:30 pm every Friday, and meet at the IV Food Co-op!  Plus, FREE FOOD afterward!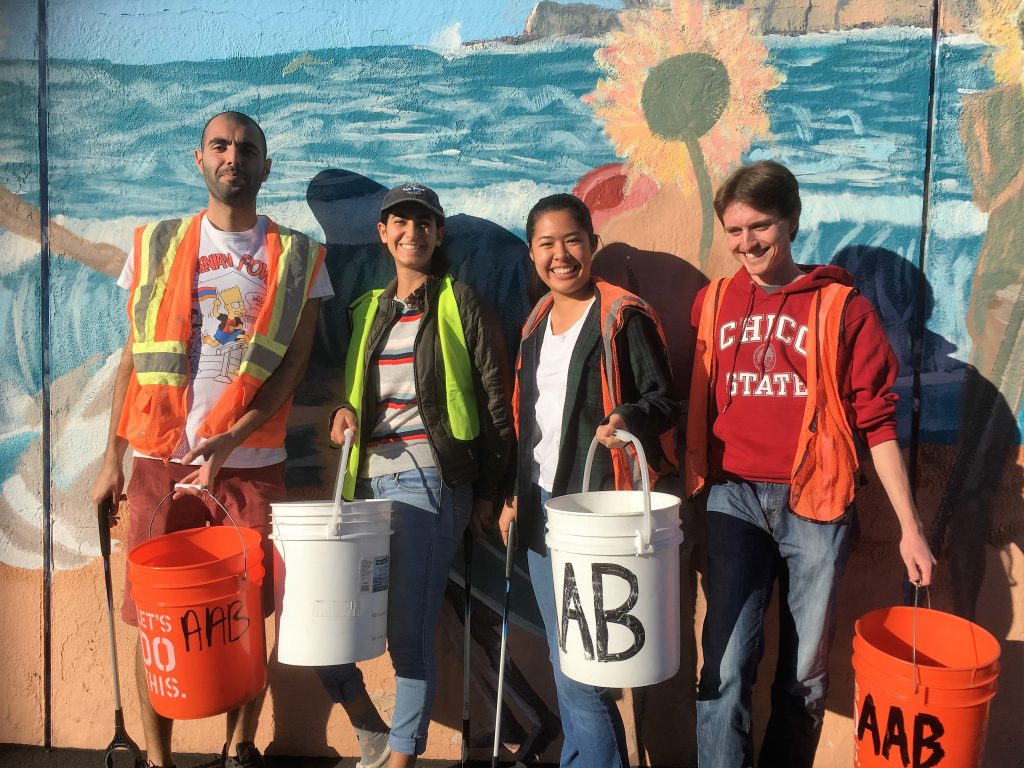 Habitat Restoration
We volunteer with CCBER to do restoration on campus and learn more about plants and restoration regulations in the area.  We also take special trips out to the Channel Islands to help with restoration out there.  It's a wonderful opportunity to explore the islands and see what California looked like before urbanization!

Beach Clean-ups
We team up with other campus organizations to coordinate two massive beach clean-ups per quarter to keep Del Playa Beach clean and safe.  We have picked up over 250 pounds of trash in just a few hours.

Your Children's Trees
EAB consistently works with the organization Your Children's Trees by planting trees and maintaining saplings at their restoration sites.  Your Children's Trees is currently working on the establishment of a native Oak Woodland at Coal Oil Point.  The work days are some Saturday mornings from 9am to 12pm.  We also provide breakfast for our volunteers, meeting at Bagel Cafe at 8am before biking over to the restoration sites (locations vary).
Isla Vista Earth Day
We organize a festival spectacular every April in Isla Vista's Anisq'Oyo' park to celebrate Earth Day. The event features live music, organic and local foods, eco-conscious vendors, and activities for people of all ages. The celebration attracts upwards of 2,000 people annually.
Hikes
We lead hikes every weekend to trails throughout the Santa Barbara area.  Leave the IV bubble and explore what this gorgeous town has to offer.

Farmers Market Bike Rides
Bike with us to the Sunday Farmers Market in the Camino Real Marketplace (near Costco).  Enjoy delicious, locally grown and organic produce, and support our local farmers.  Check out the EAB Facebook page for event updates on when we're going!
Camping Trips
EAB leads an awesome camping trip every quarter!  Come learn more about your fellow EABers while hanging out at the beach, adventuring into unknown territories, or getting some exercise.  Past trips have included Joshua Tree National Park, El Capitan State Beach, San Rafael Wilderness, and more!